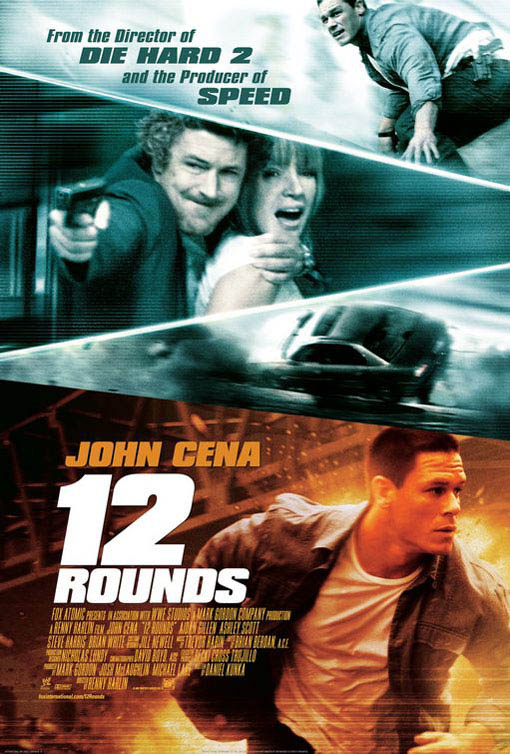 12 Rounds Review/Running Commentary:
Round one of John Cena vs. The Rock, Movie Wars will end with this movie starring John Cena and Ashley Scott. I can smell the hilarity already. Let the running commentary of doom commence.
Running Commentary -
Starts off with cops trying to find some guy.
Cena appears and is looking for his bad. He rambles throughout this scene until he finds his badge.
They're already resorting to ED jokes. *rolls eyes*
Turns out the guy they're looking for is a terrorist. Maybe he's like Wolfgar from 'Nighthawks.'
Drug deal or whatever it is goes back. Terrorist guy starts shooting people and talking about his brother.
The terrorist guy just killed the guy he captured.
Turns out the terrorist guy had a briefcase with diamonds to give his girlfriend.
Cena sees the girlfriend in the car next to him and he and his partner pull her over. Cena tells his partner to have her open the trunk and when she does the terrorist guy starts shooting at them! Cool scene.
Cena is now chasing them down on foot like Martin Riggs in Lethal Weapon.
The car crashes and they try to run from Cena but the criminal guy's girlfriend gets hit by a truck and he gets arrested. He tells Cena that he'll remember him before he's finally arrested.
Flashforward to a year later and they're playing pool.
Cena screws it up with his woman over the toilet overflowing.
The phone rings and Miles, aka the arms dealer, calls him and then BLOWS UP HIS CAR AND HIS HOUSE! I like this scene a lot.
He says that he just won round 1 and this is his revenge for what happened a year earlier.
Cena driving around like a maniac and now he calls her phone only to find out that Miles has captured Molly, his girlfriend. Cena says he's going to hunt him down and kill him.
Turns out the clue he was given was the Fire House of his brother's fire station and then gave him a new tasks but Cena has to get two safety deposit boxes from a bank building that's on fire.
Now the FBI is involved.
Cena finds the safety deposit boxes and gets a call about the bomb. One holds the bomb and the other has a clue.
Cena does his best John McClaine impersonation using some cable wire.
After commandering a fire truck Cena drives into many vehicles before arriving at the wharf and throwing the bomb into the water.
They arrive at the hotel where the clue leads to and sees Miles on the camera.
The next round was an elevator falling and Cena survived but Willy the operator was killed.
Cena figures out that the next clue is to get on the bus and he finds Molly with a bomb on her.
Miles is on the bus too.
The FBI goes to snipe attack Miles but Cena gets shot instead and then the bus stops. Miles escapes from them again.
Cena is now working with FBI Agent Santiago to srop the street car that has no brakes.
The street car is out of control and Cena puts his car in front of it to stop it but it backfires as does getting on top and trying to cut the power.
They then ram their FBI vehicle into a power station and it works.
Meanwhile Cena's partner and another cop have tracked down Miles' accomplice.
Turns out Miles is going to take down Cena's partner after he takes down his accomplice.
Miles kills all three of them with a bomb.
Miles calls Cena and explains that it's Round 12. It's the knockout punch.
Turns out it's the Die Hard with a Vengeance and Live Free or Die Hard scenario. It's not about revenge it's about a heist. There's money in the mint and he's taking a shitload of it.
Miles escaping with the money and Molly inside of the hospital that he just caused an explosion out of. He's using the helicopter to escape just like they did in Dawn of the Dead.
Cena jumps from the roof of the hospital onto the helicopter.
Cena beats up Miles and then he and Molly jump from the copter into the pool on the roof of a building right below them.
Overall:
2 1/2 out of 5 stars. Cena was okay and this was his best movie by far but the comedy parts were stupid. The other actors did okay too but the writing and dialogue at times was pretty bad. The story also was a bit preposterous at times as well. Overall not horrible but not great either. Average is my overall rating.