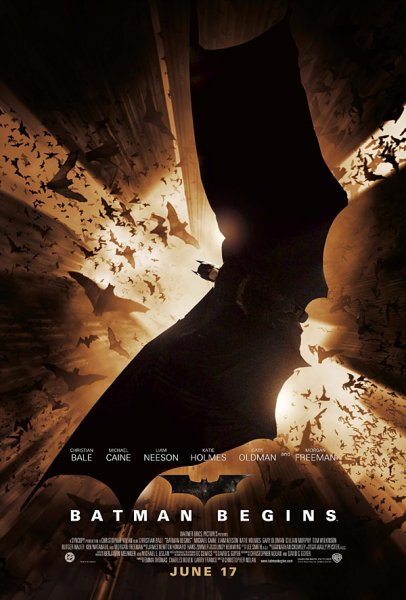 Batman Begins Review and Running Commentary:
This is my review of the first of the new Batman movies starring Christian Bale, Michael Caine, Katie Holmes, Morgan Freeman, Gary Oldman, Liam Neeson, and Cillian Murphy. Let the running commentary begin.
Running commentary -
Starts off with Bruce Wayne as a child falling into a hole and having bats flying all around him.
Grown up Wayne wakes up after dreaming it. He's in jail. They wont let him eat and he beats up four thugs by himself.
He is taken to solitary confinement when he meets Henri Ducard who represents Ra's al Ghul. He offers him a chance to join the League of Shadows.
He takes up the offer and climbs up the mountain with the rare blue flowwer we was instructed to take. He reaches the top and finds a massive building. Inside he meets Ra's and tells them he wants to turn fear as a weapon against those who prey on the fearful. Ra's says he must first confront his own fear.
Henri fights Bruce and wins. He figures out that Bruce is afraid but not of him. Excellent scene.
Bruce has a flashback of the bats again. This leads to a flashback of him and his dad talking while he and his parents are on a train. They are at the opera and Bruce has another bat flashback so they leave. They leave and are confronted by a robber with a gun who shoots parents in front of him. At the police station he is consoled by Officer Gordon and is told they found the guy. Back at home Bruce is told not to take the blame by Alfred.
Excellent training scenes with Bruce. Bale and Neeson are great in it.
Flashback to the hearings of his parent's murderer. Bruce cames back and Alfred talks sense to him. Bruce takes a gun with him to court. When the killer speaks he gets up and walks out of court. Bruce gets out the gun to shoot the man but someone else shoots him first and he sees it happen. Rachel takes him to show him the dark underside of Gotham and then takes him to Falconi's base. He shows her the gun and gets slapped before getting out of the car. He throws the gun away and goes inside.
Bruce meets Falconi. Falconi shows him corrupt politicians in his bar and Falconi says you always fear what you don't understand. Tells Bruce he has spirit and has his goons remove him from the place. Good scene.
Bruce switches coats with a homeless man and then leaves. He then tells Henri about his exploits while overseas to understand the criminal mind.
Excellent ninja training scene.
He finds out the League's plan to attack Gotham and destroy it. Bruce refuses to join and spares the man he was supposed to execute. Another awesome ninja swordfight scene and Ra's palace is destroyed but Henri is saved.
Bruce is picked up by Alfred on a plane. Tells him he wants to save Gotham. Tells him his idea of being a symbol and be everlasting. He also finds out he's been declared dead, lol.
Dr. Crane is confronted by Rachel after another of Falconi's thugs ends up in his asylum.
Bruce sees a bat in his mansion and gets the idea for Batman and the Batcave.
Dr. Crane is working with Falconi.
Bruce wants to come back and have a job. He wants to check out the Applied Sciences Department.
MORGAN FREEMAN!
Batman shows up in Gordon's office and tells him he wants to bring down Falconi. Gordon tells him how to bring down Falconi. Batman escapes and Gordon chases him but he gets away.
With Freeman Bruce tests out some fabric and the Tumbler which becomes the Batmobile.
Wayne gets his Batman gear set up for his first mission.
Falconi and goons are at his warehouse. Batman systematically captures ALL of Falconi's men one at a time like something out of a horror movie. After taking down all of his goons Batman breaks through Falconi's car window and captures him. He sees the homeless guy he gave his coat too years earlier and tells him nice coat.
Rachel gets off the metro train and almost is robbed but Batman scares the men away. He tells her that he's going to rattle the cages and leaves her evidence. Gordon arrives at the warehouse to find Falconi tied to a sign that makes a Bat picture on a Signal. Cool scene.
Uh-oh. Coast Guard picked up a Wayne Enterprises cargo ship with all crew missing and a prototype microwave emitter weapon that they turned on. It's used to vaporize the enemy's water supply.
Bruce goes out with beautiful women to play up his playboy image. He runs into Rachel and feels like he disappoints her.
Crane arrives at the jail after Falconi slits his wrists. Turns out it was a ploy to get into his asylum. Falconi is trying to blackmail Crane. Crane pulls out his mask and spraws him with a substance and scares him with his Scarecrow mask. AWESOME.
Batman shows up at Gordon's house and asks him what he thinks of him but disappears when he turns around.
Batman gets Gordon's partner and makes him talk.
The DA shows up at the docks and gets killed by cops that work for Falconi.
Batman arrives to stop Crane and goons from burning a house to destroy evidence. Scarecrow shoots the spray at him and then sets him on fire. Batman escapes and calls Alfred for help.
Lucius synthesized an antidote and saves Bruce's life. He wakes up on his birthday and finds Rachel.
Lucius' boss wants all info on the missing weapon and then fires him. What a douchebag.
Rachel watching as Falconi mumbles about a Scarecrow. Crane takes her to where he's dumping something into the water supply and captures her. Batman arrives and saves her while taking his goons.
Batman then uses Crane's own spray against him. The police show up and Gordon goes in and talks with Batman about Rachel. He also tells him what's going on.
A horde of bats arrives and Batman uses it as a distraction. He then tries to escape in the Batmobile with the police on his tail. He escapes with Rachel. He takes her to the Bat Cave and his house where his birthday party is happening. He has Alfred take her home.
Bruce finds Lucius and tells him to make some antidotes for whatever it is that Crane is putting in the water supply. He also finds out about Lucius being fired and isn't happy.
Ra's shows up at his party! Neeson was Ra's all along! Cool.
He tells Bruce to get rid of everyone so they can fight it out. The League of Shadows is there to start their plan.
The League gets Dr. Crane aka Scarecrow and all the prisoners out of prison and burn down Wayne Manor before they set off to start their plan.
Alfred arrives and saves Bruce from the burning mansion.
Rachel finds Ra's and he uses the weapon while trapping everyone. Now EVERYONE is under the hallucinogens and it's complete chaos.
Scarecrow finds Rachel but Batman arrives in the Batmobile and has Gordon take it while he goes for Raz and the League.
Rachel zaps Scarecrow with her taser. Batman then saves her and a small boy from some armed criminals. Rachel wants to know who Batman is and he tells her something she told him. She realizes it's Bruce. Awesome scene.
Batman takes out most of Ra's League goons before some criminals get a hold of him but he fights them off and goes back after Ra's.
Batman gets on the rail train and fights Ra's to stop the weapon before it reaches Wayne Tower.
Gordon blasts the train rail and Batman escapes before the train crashes. AWESOME SCENE.
Lucious has now taken the position his boss who fired him had and then fires him the same way he was fired. Rachel shows up at Wayne Manor and they make up.
Movie ends with Batman giving Gordon the Bat Signal and Gordon in turn gives him a Joker card. YES! I LOVE THIS SCENE! Batman flies off and the movie ends.
Overall -
Going to give this 4 1/2 out of 5 stars. Nothing bad about this movie at all. WAY more realistic than a Batman movie should be. All of the major actors were great in this movie especially Bale, Freeman, Oldman, and Caine were all really good. The action scenes were realistic and there weren't any slow, plodding points to this movie either. Dark Knight will be reviewed tomorrow...I'm a man of my wooorddd...Muahahahahahahahahahahahahahaha!!!!