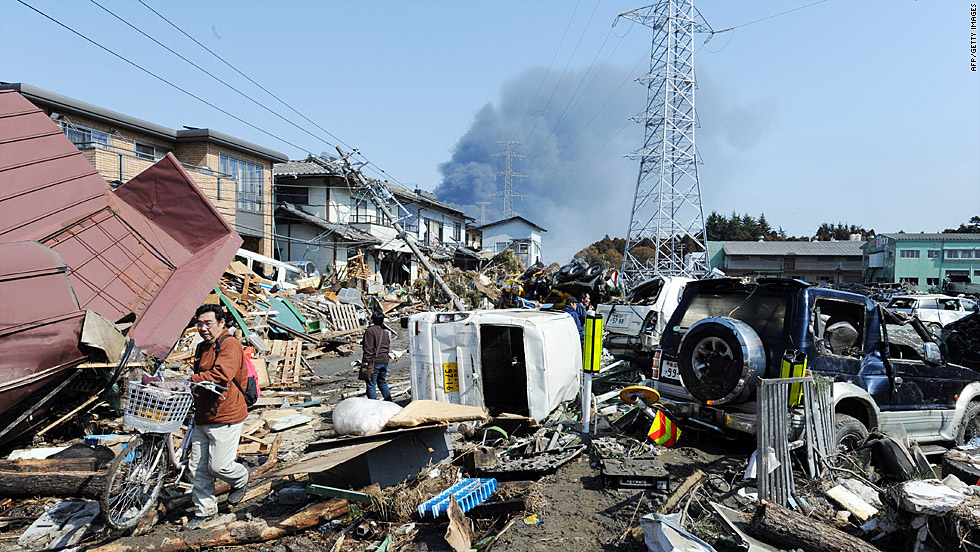 Japan Tsunami and Earthquake News Update:
More updates as it develops. There was ANOTHER explosion at the Fukushima nuclear power plant and they think it was a hydrogen explosion. This explosion took place at reactor 3 at the facility. The Tokyo Electric Power Company is reporting that 3 people are missing and 7 are missing after the explosion. Drudge Report is saying that the explosion was HUGE. That is not a good sign. Things are going from bad to worse now too. According to CNN approximately 2,000 bodies have been found in eastern Japan's Miyagi Prefecture. Also add to all of this that Shinmoedake Volcano in southwestern Japan is now erupting. They don't know if the eruption is related to the 8.9 earthquake but it is looking like that may have played a role. This is the first volcanic activity at the volcano since last March. A top Japanese government official says there is no massive radioactive leak from the reactor where the hydrogen blast happened. That is what they know as of now.
Another tsunami warning was issued in Japan after an aftershock. Japanese stocks are plunging due to investor worries about the disasters. Just found an INSANE video of the tsunami wave going through Kessenuma City. Unreal to see it. Official death toll is now 1,600 as of now according to CNN. A new tsunami warning turns out to be a false alarm. A man swept out to sea and found on his roof was rescued today. Stocks in Japan are also taking a hit. There's been a massive sell off of Tokyo Electric Power Co. stocks just for one as well as drops in the stocks of Toyota and Sony. Japan's central bank has also injected $15 trillion yen or $183.6 billion dollars. Gridlock all on all of the highways in the effected area has continued into today. CNN reports that more than 60 countries are offering Japan aid for search and rescue missions. CNN International Desk Twitter feed says that USAID is coordinating the American response to the disaster and the US is sending nuclear experts to Japan. In more breaking news the USS Ronal Reagan passed through a radioactive cloud and the crew members on deck were exposed to a month's worth of radiation. I'll have another update tomorrow.
Hydrogen Explosion at Fukushima Nuclear Power Plant -
http://www.cnn.com/2011/WORLD/asiapcf/03/13/japan.nuclear.reactors/index.html?hpt=T1
Volcano Erupts -
http://www.timeslive.co.za/world/article965229.ece/Japanese-volcano-erupts
CNN Live Blog -
http://news.blogs.cnn.com/2011/03/13/japan-quake-live-blog-nine-people-test-positive-for-high-radiation-levels/
Video of exact moment Tsunami Struck -
http://www.bbc.co.uk/news/world-asia-pacific-12725646
Kessenuma City hit by Tsunami Video -
http://www.bbc.co.uk/news/world-asia-pacific-12722026