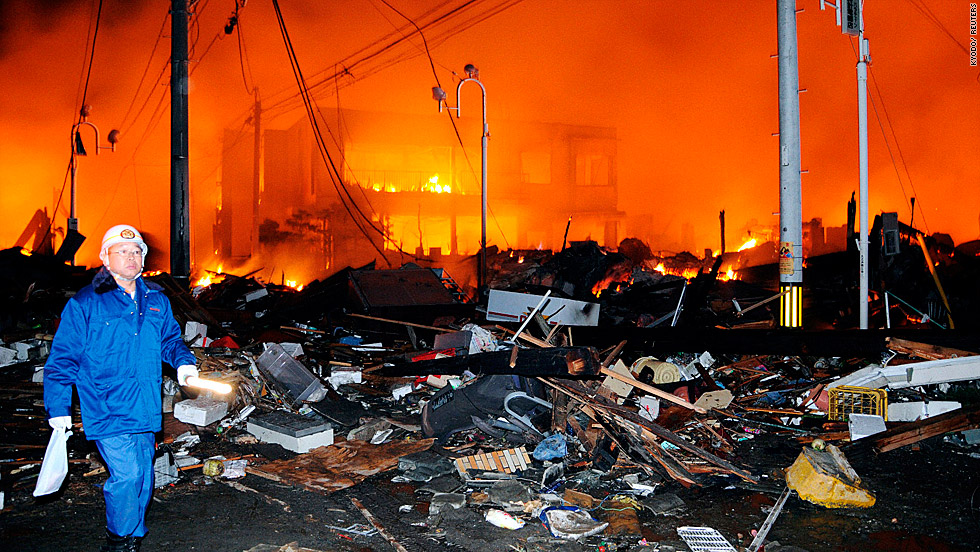 More Japan and Tsunami Updates:
This just in. The radiation around the nuclear power plant is now 1000x the normal level. They are now expanding the zone of evacuation around the plant. The expert on CNN says that if it goes up another 1000x then people should really start worrying. CNN Chile is now saying there's a Tsunami Alert and not just a warning for Easter Islands (yes, those Easter Islands) and Chile. Chile will get hit by the tsunami waves in about 4 hours time. They are now doing rooftop rescues in Japan now. Oceanographer saying that the waves are moving at the speed of a jumbo jet. Says the tsunami here is far more powerful than the ones created by the Chile earthquake last year. They are now saying that the way the waves pushed away from Japan is why it has been upgraded to a tsunami alert. Easter Islands will be hit in 2 hours by the waves. The tsunami wave that hit Japan went over 6 miles inland. AMAZING and unreal video of Japan now that it's daylight.
Daytime footage from Japan is pretty interesting to watch. LOTS of people on rooftops like the people were in the movie Day After Tomorrow. Ecuador has now issued a tsunami warning for the Galapagos Islands and residents are being evacuated from the coastal towns. This is very similar to Hurricane Katrina with the water being inland. Clean drinking water and disease could be major issues in the upcoming days. Japan has now declared a nuclear emergency because of the power plant. Kyodo's news agency now denying it ever said that 88,000 people were missing. The video of Japan looks similar to the cover of the Isis "Panopticon" music CD. The aerial footage of the tsunami is amazing. Rescue crews are saying there is little hope of survival for people caught in it. 23 foot tsunami is what it was. In other news the NFL Player's Association has decertified. I'll do a blog about this later especially if they go into a lockout scenario. Company coming in shortly. But this is the latest news on the disaster in Japan as of now.
Live footage on CNN homepage -
Japan Earthquake Photos -
Interactive Japan Earthquake Map -