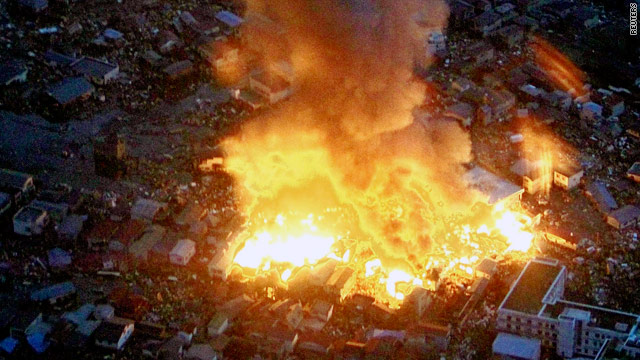 More Updates about the Japan 8.9 Earthquake:
There was a 6.6 earthquake in Nagano where the 1998 Winter Olympics took place. This is a seperate earthquake and not related to the big one from yesterday. The tsunami expert, Professor Fritz, on CNN is saying that this is bigger than what they possibly planned for. They also said this was the biggest earthquake to hit Japan since 1707 which caused Mt. Fuji to erupt less than a month later. Updated death toll now stands at 151. Here in the states an 8 foot tsunami hit Crescent City, California. That's the biggest to hit here in the states so far. They are saying there've been 50 foreshocks and aftershocks in Japan. Wow. That's a large amount. Godzilla is trending on Twitter because of a CNN reporter's flap about it and the tweenage idiots are making jokes. I like Godzilla. In fact I have all the mornings but it's stupid and ignorant to make jokes and comments related to Godzilla about this whole situation. If you are making those jokes then I hope karma comes around to bite you in the ass. That's the bottom line about it.
New update from Reuters about contact being lost with 4 trains along Japan's coast. On CNN they are saying 11 reactors automatically shut down but the one that is giving them problems didn't cool down because of something unusual happening with water diversion. Kassanuma, Japan has now been engulfed in flames. LITERALLY the entire town is burning out of control. Wild video of the tsunami hitting. There's a house floating on the water! WOW! More wild video from the Sendai airport of the tsunami water wave coming onto the airport and covering the runways in water. The Japanese authorities say the death toll could reach over 1,000. It's night time in Japan, around 5:00 am my time. Also Tokyo's iconic Tokyo Tower was damaged by the quake as well. However they wont know the true scope of the damage until when the sun rises after dawn. Mobile phone service throughout Japan is having problems too. Light will come up in an hour. Expect another update once the sun rises.
CNN Live Blog Updates -
Visual Map of the Tsunami Waves and When and Where they will Hit -