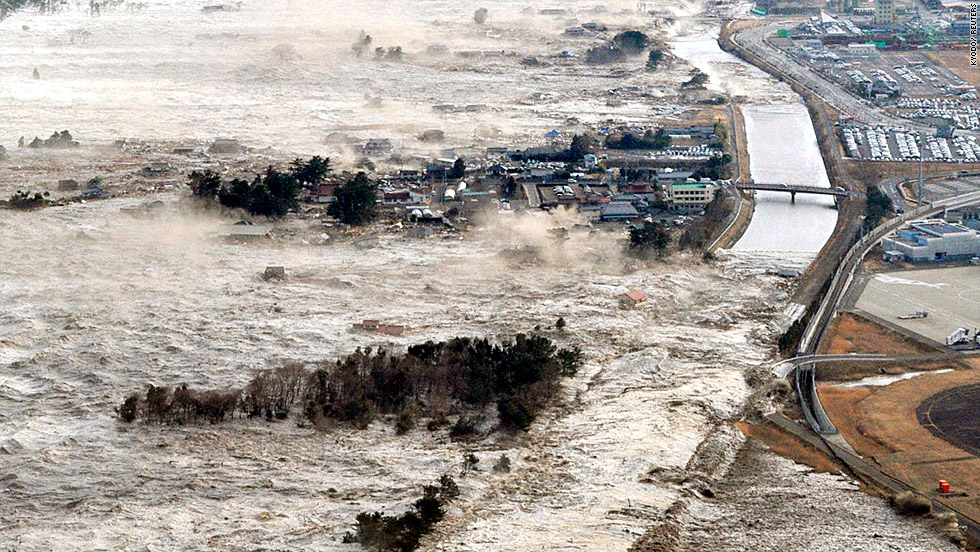 More updates from Japan after the Earthquake and Tsunami:
More news from Japan. Apparently I'm doing a great job of reporting on this so I'm going to keep doing it. A CNN reporter just tweeted about another aftershock hit Japan about 10 minutes ago. The latest information on the Fukushima Nuclear Power Plant is that reactors 1 and reactor 3 are the ones having major issues with cooling down. 15 people near the Fukushima reactor are being treated for radiation exposure. The Japanese Meteorological Agency has now upgraded the earthquake from an 8.9 to a 9.0. On CNN there's an exclusive report of Minamisanriku, Japan about HALF of the town being missing. HALF! There's 9,500 people missing from that town which is pretty wild if you think about it. Kessenuma also has a similar amount of people missing from their town too. Also there have been 20 6.0 or higher aftershocks since the massive 8.9 earthquake on March 10. As far as the nuclear radiation they are worried about it going into the air or getting into the ground soil. They don't know what will happen. Most of the experts are now saying that the Fukushima Reactor is finished no matter what after this. Expert Phillip White on CNN says that if it rains and the radiation is in the air then it will do the most damage if it rains on a populated area. He also says that black rain with radiation in it after the Hiroshima and Nagasaki atomic bomb attacks gave radiation sickness to a lot of people and that could be something to watch out for. Interesting interview with him on CNN just now.
More wild video on CNN about the tsunami warning being issued and people going to higher ground on a hill after hearing it. The video they took is now being shown. This is pretty intense to see. THE WHOLE TOWN JUST GOT WASHED WAY! UNBELIEVABLE! Ten minutes between the warning and the tsunami. That was a crazy thing to see. If you can find the video I highly suggest a look. If I find it I'll link it up at the bottom of this blog. Nevermind. Just found it. It's the first link in this article. Unbelievable video. City it was taken in is Kamishi, Japan. Warning issued at 3pm and then the tsunami arrived at 3:11 pm. This, to me, is the best ground level video of what happened out of anything I've seen thus far. Scary stuff. According to the BreakingNews Twitter account the New York Times is reporting that the mobilization of Japan's self-defense forces is the largest seen in that country since World War II. Reuters reporting that deaths from this dual disaster could top 10,000. I honestly wouldn't be surprised. The Associated Press just reported that there's a new explosion threat from Reactor 3 at the Fukushima Nuclear Facility. Report that 160 people are being tested for radiation. Latest report is the Japanese authorities continuing to warn of possible second hydrogen explosion at the Fukushima Nuclear Power Plant. CNN showing a Japanese reporter showing a crack in the highway that he estimated to be 2 meters deep. The crack is HUGE! Also I don't think that people are talking about the snow. It was snowing in some of the tsunami videos so that will also play a role in getting help to the people in need because of snow tires being needed possibly to get to some areas. Just a thought. More to follow tomorrow. Hopefully I'm doing a good job with this. Lots of updates from numerous news agencies. Still expecting a meltdown to be honest. I said that yesterday and sticking with what I said. I'm the man who tells it like it is and expect AT LEAST one reactor meltdown. It is a real possibility especially after an explosion at the nuclear facility. Going to bed. I'll post more updates when I can tomorrow. This is the Heel Heat blog news edition signing off for the night.
Kamishi Tsunami Warning and then Tsunami Video, WATCH THIS -
Japan Before and After Photos -
Fukushima Nuclear Plant Fact Sheet -
BBC Update -
20,000 people Missing from two towns -
20 Aftershocks above 6.0 magnitude -
New Reactor Explosion Risk -