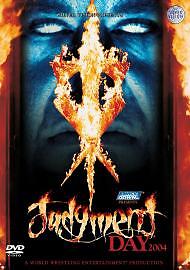 WWE Judgment Day 2004 Review:
Another old school wrestling pay-per-view review. This one is of WWE's 2004 Judgment Day pay-per-view. Coming soon, probably second week of March, I'll be reviewing WrestleManias and do a list of WrestleManias.
Rob Van Dam and Rey Mysterio vs. The Dudley Boys -
Liked the switcheroo heel spot at the beginning by the Dudleys. Nice RVD comeback kick spots followed by RVD and Rey high flying against the Dudleys. AWESOME hot shot move by Bubba to Rey onto the top rope. Match started off hot but really slowed down once the Dudleys were in complete control. Bubba manhandling Rey in the corner was great especially with Bubba saying "He's a pinata." lol Mysterio taking down with a Diamond Cutter Bubba while tied upside down in the corner was awesome. Catapult Hurricanrana with RVD catapulting Mysterio onto D-Von was an excellent spot. Ending was great with Rey hitting the 619 followed by RVD hitting the Five Star Frogsplash on D-Von Dudley for the win. Overall an okay match with some great spots thrown in here and there but the middle was a bit plodding which kind of took the momentum away from everything else.
Winners: Rob Van Dam and Rey Mysterio
Josh Matthews interviews Booker T and he's using a black bag to ward off evil spirits. I thought he was going to conjure up the Ghoulies for a second.
GM Kurt Angle comes out in a black vehicle and then appears in a wheelchair because of his injured leg. He then gives a great heel promo on the city of Los Angeles and Eddie Guerrero. He says that after he leaves he hopes there's an earthquake in Los Angeles, lol. He then calls out Torrie Wilson whom he blames for him being in the wheelchair. He says that if Torrie loses to Dawn Marie tonight then she's fired.
Torrie Wilson vs. Dawn Marie -
I miss these two. They're two of the hottest divas EVER. Michael Cole just said "Will you stop?!" Reminded me of Gorilla Monsoon and Bobby Heenan from the late '80's-early '90's. Cool looking spot where Torrie misses a top rope crossbody block and hits the mat facefirst hard. Boring match until Dawn Marie has a wardrobe malfunction and everyone can see her ass and thong. Other than the wardrobe malfunction, the missed top rope move, and a baseball slide by Dawn Marie this match sucked.
Winner: Torrie Wilson
JBL interview. He's like a racist George W. Bush wanna-be oilman elitist. He then said there's a country of Eddie Guerreros and basically runs down criminal people like Eddie Guerrero. He says everyone should speak English and that welfare people should be people who don't have nine people living in the same house in some sort of messed up family dynamic. This is GREAT! This is like comedy for me to watch. Heel wrestlers are funny as hell. They beat out any comedian on Comedy Central.
Scotty 2 Hotty vs. Mordecai -
Scotty 2 Hotty was still around in 2004?! How the hell did that happen? lol His opponent is Mordecai and he's like a religious zealot monk guy who looks like a sorceror from the time of King Arthur. Mordecai dominating early with power moves and basic general brutalization. Scotty has a brief comeback and Mordecai then comes back before getting the power of God and hitting the Razor's Edge for the win. Nothing match but a great way to make Mordecai look good in his debut.
Winner: Mordecai
Chavo in his locker room and Jackie comes in to give him a present. It's a bra and panties. She says he should dress like a girl if he's going to lose to one. Chavo Classic is now checking to see if they fit, lol. Always liked Chavo Classic.
World Tag Team Championship, champions Rico and Charlie Haas (with Jackie Gayda) (c) vs. challengers Hardcore Holly and Billy Gunn -
Charlie looks distressed to be teaming with Rico, lol. He then reluctantly goes onto Rico's runway before backing away and walking around it. Then comes Hardcore Holly and Billy Gunn. This is a weird match as far as the teams booked is concerned. Neither of them want to start against Rico. Rico knocks Holly and Gunn to the floor and they continue to argue about who will start after Haas gets tagged in. Nice chain wrestling with Haas and Holly. Rico then does the homophobic mind games against Holly. Rico's really messing with them. This is like Goldust from 1996. Rico licked his hand and then tried to wipe it on Gunn's chest which made him back away in fear, lol. Rico then grabbed Gunn's ass to get out of a headlock and then when he went to tag in Holly his partner jumped off the apron. Rico then rode Gunn piggyback and put his face in his crotch. Gunn wouldn't come back in until Haas was tagged in. Gunn and Holly then got the advantage using cheapshots on both of the champs. Great dropkick by Hardcore Holly. Nice boot to the face spot by Gunn onto Haas. Crowd into Rico after the hot tag. Blind tag by Haas and Gunn hits the Fame Asser onto Rico. Holly back in and goes for the Alabama Slam onto Haas but Rico savate kicks Holly in the face and Haas Sunset Flips him into the winning cover. So far this has been BY FAR the best match on the show and that's saying something.
Winners: Charlie Haas and Rico
Undertaker shown backstage with Paul Bearer in a dark, foggy room. Bearer says this is Booker T's judgment day and Taker says Rest in Peace.
Cruiserweight Championship on the line in a match where Chavo Guerrero must wrestle with one arm tied behind his back, Jacqueline (c) vs. Chavo Guerrero (with Chavo Classic) -
Jacqueline as the Cruiserweight Champion after a low blow to Chavo? Jacqueline pulling down Chavo Classic's pants the next week on Smackdown? This show just went from the high point to the nadir. Plus Chavo has to wrestle with one arm tied behind his back. This whole match is going to suck. It hasn't even started and already I want this crap to end. Leg scissors by Jacqueline that sends Chavo to the ringpost. Crowd isn't into this at all. Chavo Classic getting knocked off the apron by Jacqueline so far has gotten the biggest reaction out of anything in this match. Chavo Classic just untied Chavo. General observation: Chavo Classic looks a lot like Cheech Marin. Face first Gory Bomb after Chavo Classic's third referee distraction leads to an end to this crapfest.
Winner: New Cruiserweight Champion Chavo Guerrero
Post-match promo by Chavo saying that no one can laugh at him again after this title victory. Chavo Classic then walks over and kicks Jacqueline in the stomach. These guys are heroes that kids can cheer for and be proud of.
United States Championship, John Cena (c) vs. Rene Dupree -
The French cafe music in the pre-match promo video is great. Dupree had a show called Cafe de Rene? Lol, that's funny to me for some reason. Why is John Cena coming out first? Shouldn't the challenger come out first? That explains it. Cena does a promo and Dupree interrupts it with his theme music. Cena talking trash and gets kicked in the face by Dupree. Rake to the eyes by Dupree and then he rams Cena's head into the ringpost. That's skill wrestling right there. Cena got the advantage again and went for a crossbody block onto Dupree who was on the apron but Dupree pulled down the top rope and Cena hit the floor with a thud. Boring middle part until Cena goes for the Five Knuckle Shuffle, Dupree gets up and hits a Spinebuster. Dupree then goes for the French Tickler but spends too much time mocking Cena and misses. Cena goes for the FU but Dupree counters into a reverse neckbreaker. Cena finally connects with the FU and gets the win. Okay match, nothing too special.
Winner: John Cena
Kenzo Suzuki promotional video...yeah, that guy sucked.
Booker T vs. The Undertaker (with Paul Bearer) -
"I will slap the dead off of the Undertaker." lol Booker T's scared antics during this storyline are great. He went to a voodoo priestess, lol. Booker T went outside and rubbed some Voodoo Juice on himself, lol. This is hilarious. Booker kicked Taker and all it did was piss him off. Story so far is no matter what Booker does Taker keeps taking control. Booker T out to the floor for a third time already. Book clotheslines him on the top rope. Nice missile dropkick by Booker T. Booker beats down Taker in the corner but Taker comes back with punches of his own. Booker fights back, misses a bicycle kick, and Taker hits a clothesline. Taker follows his up with Old School and then a one arm DDT followed by an armbar submission. Booker excapes from the Last Ride but knocks the ref down. Booker then throws his mysterious powder in Taker's face but it doesn't work. It has no effect on Taker. Taker hits a clothesline in the corner but misses a kick to the face and gets caught on the top rope. Booker begins working over the leg. He rams Taker's knee into the ringsteps. Booker T finally hits the Scissors Kick but Taker kicks out and sits up. Booker goes for it again but gets a boot to the face and then is chokeslammed. Crowd really into Taker. Taker nails Booker with the Tombstone for the victory. Slightly better than average match. Better than the last match but not by too much. Taker's no selling at times hurt this match but still pretty good by this show's standards.
Winner: The UndertakerWWE Championship, Eddie Guerrero (c) vs. John Bradshaw Layfield -
Like this pre-match promo setting up the match. The best part was JBL putting his hands on Eddie's mother and she had a heart attack. JBL showing no remorse makes me like him even more. Heels are the best. JBL asks for the microphone and says he will be doing his promo in English and if anyone needs a translator they should look for an American nearby, lol. That was funny as hell. He then implies that the arena is filled with illegals. He then tells them to save a spot on the raft for Eddie Guerrero so they can take him back to Mexico. He then says he fired his maid, who according to him is from Mexico, for stealing and he is going to hire Eddie's mom as his new housekeeper, lol. If I was there I'd probably be the one person laughing in the whole audience while everyone else is booing over this. Great stuff. Eddie shows up and JBL asks him how his mother is, lmfao. Now Eddie is giving him the look of death. Match immediately starts off with brawling and goes to the floor seconds later. Eddie rams JBL into the barricade and ringsteps. Eddie puts JBL into the ring but JBL crawls back out to the floor. Eddie then rams him into the ringpost and then throws him over the Spanish announce table. Eddie now choking JBL with camera cables. This is awesome. Love wild, out of control blood feud matches like this. Both wrestlers in the ring and then out to the floor again in a span of 20 seconds. JBL tries to leave to the back but Eddie knocks him down and drags him back to the ring, ramming him into the railing once along the way. Eddie does multiple face stepping eye rake moves. That's skill wrestling right there. They're back on the floor again. JBL reverses Eddie's Irish whip and whips Eddie into the ringsteps. Eddie holding his wrist. Bradshaw rams Eddie into the Spanish announce table and then Eddie falls over it like JBL did earlier. JBL throws him back into the ring but Eddie fires back at him with punches only to get a boot to the face. Crowd really hates JBL. JBL whips Eddie into the corner so hard he bounces off. JBL using side headlocks to wear down Eddie. Crowd really into Eddie. Nice armdrag series by Eddie but JBL goes to the floor. Eddie tries to nail him with a crossbody from the ring to the floor but JBL catches him and Fallaway Slams him on the floor. That was a great spot. Now they're fighting on the floor again. JBL backdrops Eddie onto the Spanish announce table after he runs at JBL to go for a move. After JBL gets a brief advantage it turns into a fistfight again before JBL backdrops Eddie awkwardly before getting a two count. JBL again with a brief advantage but Eddie comes back. Eddie with a counter dropkick followed by the Three Amigos but JBL blocks the third one with a knee. JBL misses the Clothesline from Hell but Eddie fights out of it. JBL accidentally pushes Eddie into the referee and the referee is knocked down. Eddie backdrops JBL to the floor. JBL is down and out of it as is the referee. Eddie throws JBL over the English announce table. JBL then smashes him right in the face with a steel chair! Sickening thud and Eddie is bleeding all ovver the place. It's a bloodbath. Blood is dripping all over his face and chest. This is like a horror movie. JBL keeps punching the wound as Eddie staggers around. JBL then uses the steel steps against Eddie's head. JBL then poses in the ring holding Eddie's head and smiles, lol. That was a funny photo-op spot. Blood is all over the ring now too. JBL nails Eddie with the Clothesline from Hell. He goes to cover but referee is still down. Charles Robinson finally shows up and JBL only gets a two count. Blood is all over Eddie's back and arms now too. JBL goes for the Clothesline from Hell again but Eddie pushes him into Charles Robinson. JBL grabs Eddie into a powerbomb but only gets a two from the original referee who has finally woken up. Eddie kicks out of a second cover by JBL. This is one of the biggest bloodbath matches I've ever seen. JBL goes for a Sleeper Hold but Eddie counters with a jawbreaker. Eddie's whole head is covered in blood and blood is dripping from his open wound. This is sickening. JBL nailing Eddie with forearm shots but Eddie isn't fazed and he's pissed. Eddie making a comeback with fists of fire. JBL catches him and goes for a Fallaway Slam but Eddie counters with a DDT. Eddie goes for and misses the Frog Splash. JBL rolls out to the floor and grabs the WWE Championship belt and a steel chair. JBL throws the chair in and then goes to nail Eddie with the title belt but Eddie kicks him low. Eddie then nails JBL with the belt to the skull right in front of the referee who calls for the DQ. Eddie then starts punching JBL in the head repeatedly. More referees come out to get control. JBL announced as the winner but Eddie nails him with the title immediately afterward. JBL now busted open too. JBL on the floor and now Eddie has a steel chair. Eddie smashes JBL in the head with the chair and the crowd is going nuts! Eddie is still bleeding all over the place. This is out of control! I LOVE THIS MATCH! JBL back in the ring and is begging off and pleading for mercy. Eddie nails him in the head with the steel chair again anyway. Crowd going wild now. Eddie hits JBL with the Frog Splash much to the delight of the crowd. Referees come out to help JBL to the back to end this madness. Eddie staring down JBL who is backing away in the aisleway. Eddie chases him down and tackles him to the ground before nailing him with more fists of fire. More officials and referees out to seperate him and JBL. Crowd cheering Eddie after all of this chaos. Ring covered in blood and Eddie is still the champion. That match was one of the greatest matches I've ever seen. LOVED the out of control brawling and the bloody chaos at the end of this match was classic. I HIGHLY and I do mean HIGHLY recommend that you see this match as soon as possible. Even if you don't like JBL, trust me, it's worth it to watch this match.
Winner: JBL wins by disqualificationOverall:
3 out of 5 stars but it was on 1 star before that main event. The JBL/Guerrero match was an all time classic. I LOVED that match. However the only other good match on this show was Charlie Haas and Rico against Billy Gunn and Hardcore Holly which isn't saying much. However the Main Event was awesome, I highly recommend watching that match. I miss out of control bloodbath matches like this one. That was one of the greatest matches that I've ever seen. That said, the other matches on the show sans the Tag Title match were mostly garbage with a few average matches near the end but I don't recommend this show at all except for the main event.